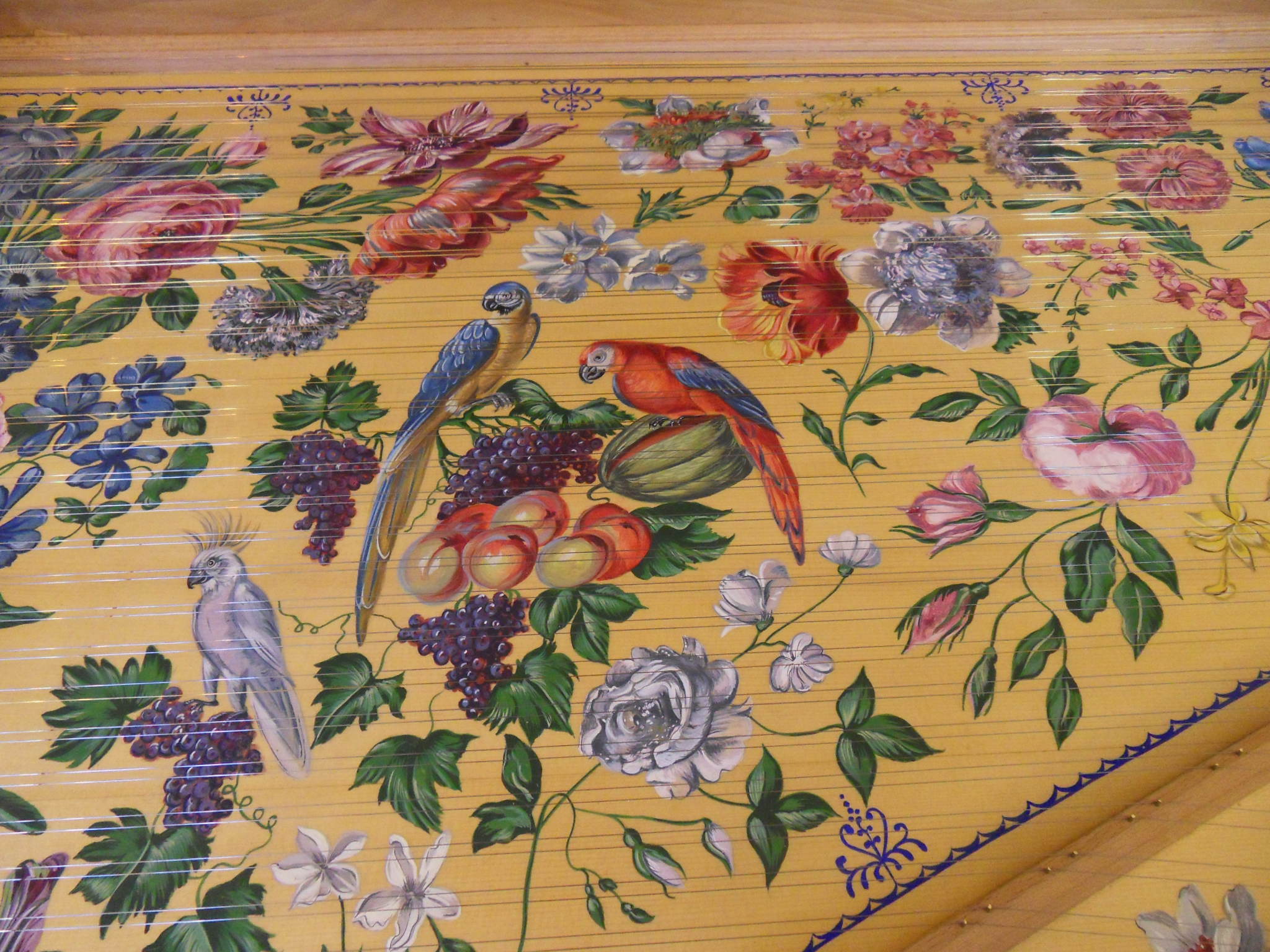 Welcome to my Website. Last updated on 12th September 2020.
My workshop is currently open to visitors by appointment.
Buy now before a no-deal Brexit adds 40% to the cost of exports to Europe!
Instruments currently for sale:
Single Manual Harpsichord by Andrew Garlick c.1980
Robert Deegan Double Manual Harpsichord, 1998.
Delin Flemish Single by Peter Barnes, April 2020.
English Harpsichord by Peter Barnes, 2019.
Spinet by Alex Hodsdon, 1956.
Virginal by Leigh Flanders.
Delin Double Manual Harpsichord by Peter Barnes BB-d3 compass, transposing.
Instruments available to commission:
Harpsichords after Gregori, Ruckers, Delin or Thomas Barton. Choice of Single or Double Manuals. Choice of compass and decoration. Specify exactly the instrument that you require! Prices from £8,000.
Double Manual French Harpsichord by Robert Deegan 1998.
This harpsichord has wooden jacks and registeres and was made by the well respected, Lancaster maker, Robert Deegan. It has a transposing compass a=415/440 FF-f3. There are 2 x 8' stops with buff and 4' stop.
Soundboard painting after the Edinburgh Taskin, by Sheila Barnes.
The whole instrument is in beautiful condition and is in good working order.
This harpsichord can be seen just north of Manchester, and is available now for £9950.
The owner informs me that the harpsichord has a broken string and needs a service. I am happy to do this and assist with transport as required.
Andrew Garlic Single Manual Harpsichord c.1980.
Compass FF-f3 with 2 x 8' stops.
This instrument it is believed to be in good playing condition and was renovated by Martin Robinson at the Early Keyboard Agency in 2003.
The rose is missing, but it may well have fallen into the instrument and still be there.
This harpsichord can be seen in the Midlands, central England and offers are invited in the region of £7,000.
It's a Hat-trick! I have harpsichords for sale from three of the best British makers, and all at the same time.....
Single Manual Flemish Harpsichord by Colin Booth made in 1984.
FF-d3, transposing with full compass in each transposition. 2 x 8' stops with buff. Wooden jacks and registers, voiced in black Delrin and in good playing condition. Black decoration with decorative brass hinges and mouldings picked out in gold leaf. The paintwork is in good condition with only a few minor blemishes.
This harpsichord is 219cm long, 86cm wide and 24cm high and it sits on an apron stand with removable, turned legs. The stand is 64cm high.
Colin's harpsichord can be seen in my workshop and is available for £5,850.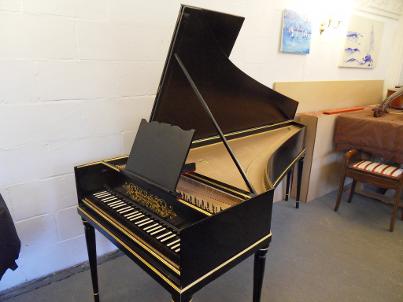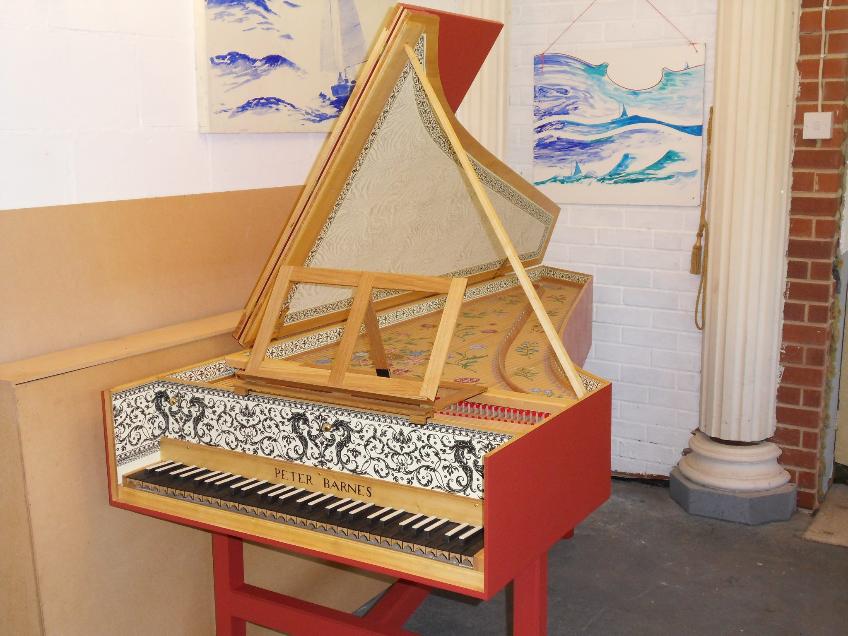 Delin Flemish Single by Peter Barnes, April 2020.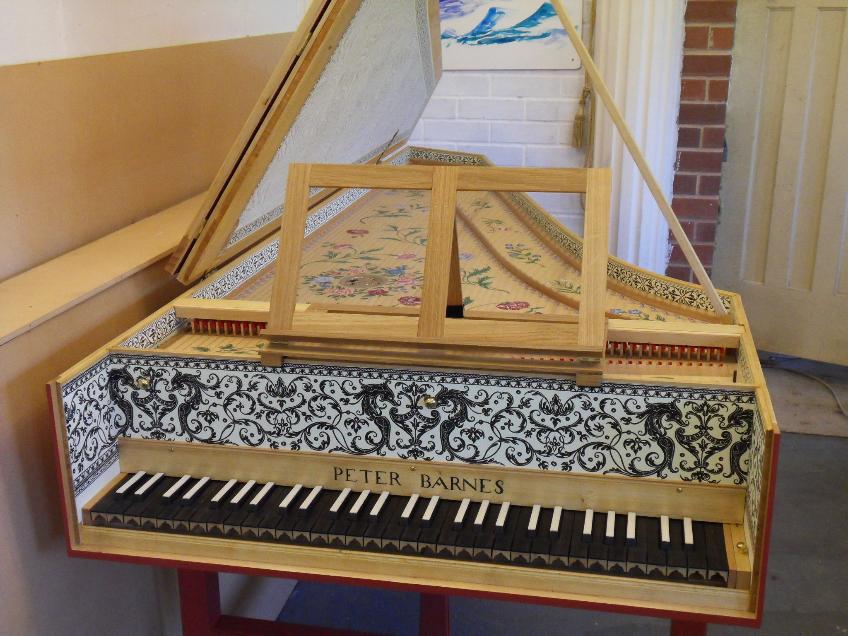 Harpsichord with 2 x 8' stops with buff. GG-f3 transposing 415/440 with full compass in both settings. This harpsichord has an exceptionally sweet sound with plenty of volume, due in part to the fabulously light French Poplar case and generous soundboard area.
Decorated soundboard in the style of Albertus Delin c.1750 painted by Jennifer Douglas and case papers in the earlier Ruckers style. Ebony natural keyplates and imitation ivory sharp cappings.
Case is 213cm long, 89cm wide and 27cm deep. The stand is 73cm high.
Finished on 4th April 2020.
The asking price is £8,900.
Delin PB 2020 Back 8'.mp3
Delin PB 2020 Both 8's.mp3
Delin PB 2020 Buff stop.mp3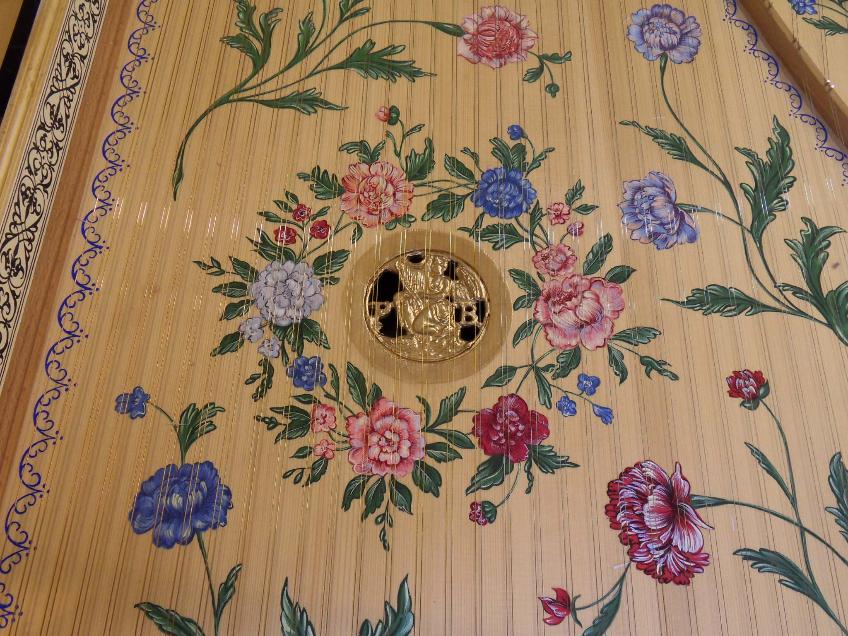 English Harpsichord after Thomas Barton by Peter Barnes 2019.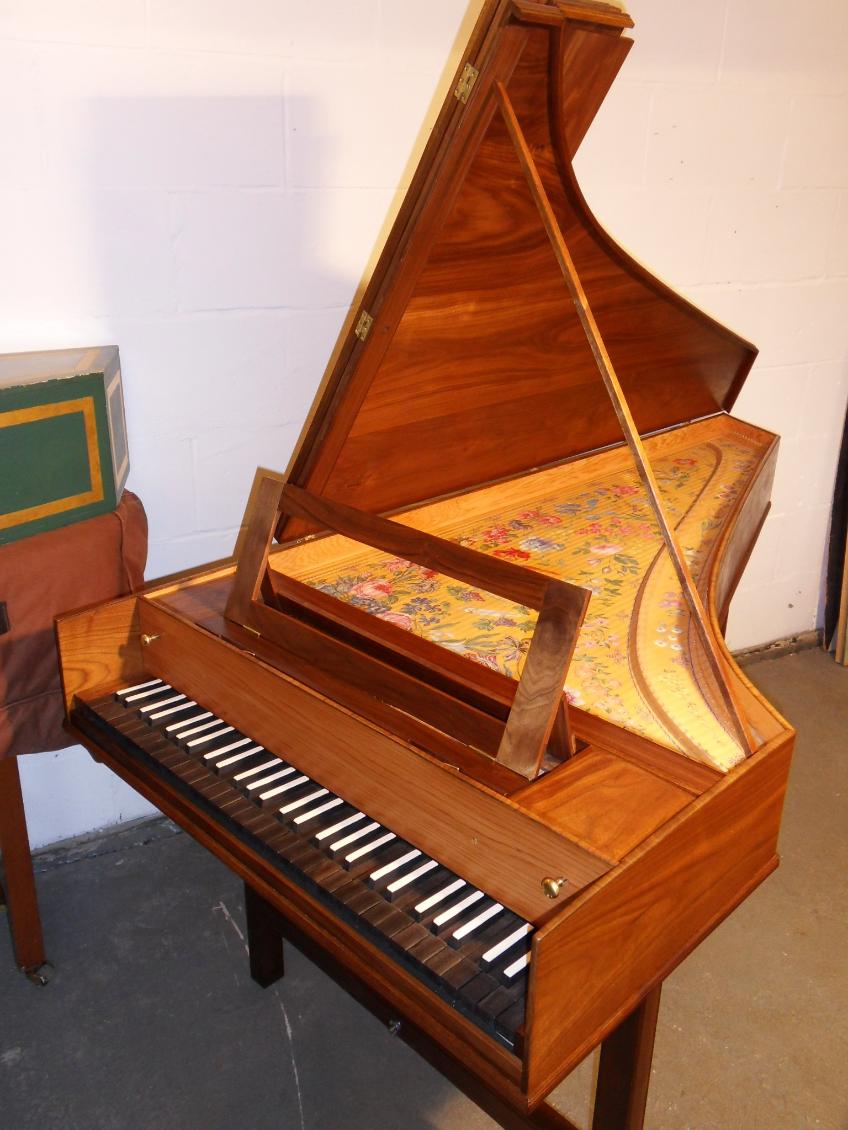 This harpsichord, made by Peter Barnes in 2019, is in the English tradition and is based on the c.1715 bentside spinet by Keene and Brackley and the 1709 harpsichord by Thomas Barton. It has traditional wooden jacks, guides and keyboard, a detachable lid with solid decorative brass-work and a folding music desk. The inside of the case and the nameboard are made from Cedar wood, with cross-banded walnut capping.
The harpsichord is strung with Malcolm Rose Iron and brass wire, it has 2x8' stops and a walnut case and stand. The GG - f3 compass transposes A440 / 415 without loss of top or bottom notes.
The stand detaches from the harpsichord and can be easily taken apart for transport. This harpsichord is 193cm long, 88cm wide and 21cm deep. It has a soundboard painting by Jennifer Douglas which is closely based on the Coston Harpsichord from the Edinburgh University Collection.
This harpsichord is about to come back from an 11 month home hiring and is now available for £8,900.
English Harpsichord 2019.mp3
Leigh Flanders Virginals c.1985.
Transposing keyboard, GG-d3 shower proof cover, turned stand that is easy to dismantle. Re-strung in brass and iron wire and in good playing condition £1,800. Special offer price £1,700.
Size: 185cm long x 58cm wide x 27cm high, on a stand which is 64cm high.
Bentside Spinet by Alex Hodsdon 1956.
This spinet has an C-e3, 4 1/4 octave compass and was restrung in Malcolm Rose iron and brass wire in 2015. It cam be tuned to a=415 or 440.
The case, music desk and stand are in good condition and are veneered in Walnut and Satinwood.
The solid Walnut stand can be taken apart into three, flat sections for transport.
The spinet is 175cm long, 62cm wide at the widest point, (the back to the treble end of the keyboard,) and 19cm high. The stand is 65cm high. The weight is 25kg plus 5kg for the stand.
In good playing condition. £1,800.
Small spinet by Christopher Barlow made to his own design.
Three pitch transposition, 396/415/440 with full C to f3 compass in all transpositions. This spinet has plastic jacks by Bolton and Brass and Iron strings. There is a stand which packs flat.
Size: 122cm long, 64cm wide and 20cm high. The stand is 64cm high. Weight c. 20kg.
Available now for £1,500.
Morley Clavichord, Dimensions L 113, D 39, H 77cm.4 octave model, makers number 1378 circa 1968 and finished in Rosewood. Fully restored by Morley themselves and sold to current owner in 2012. Only slight use since then, holds tuning well.
For sale £1,450
Instruments sold since July 2020:
Amazing 1958 Dolmetsch Double. 9-foot long with 16-foot, 8-foot and 4 foot stops!
Available as seen, complete with lid, stand and music desk for only £800.
This harpsichord requires at the minimum, the following work:
Replacement plectra for 4' and both sets of 8' jacks. £900.
Replacement set of jacks and plectra for the missing 16' jacks £1,300.
This work would bring the total cost to £3,000 and provide an instrument that is in good playing order.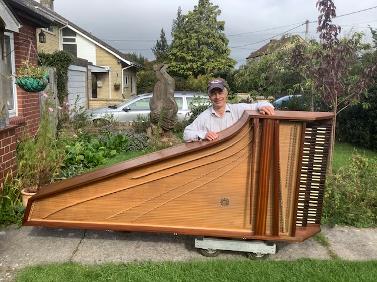 Bentside Spinet by John Storrs, c.1980.
This spinet has an FF-f3, five octave compass and is strung in iron and brass wire. It cam be tuned to a=415 or 440.
The case, music desk and stand are in good condition and are made from solid, waxed poplar, making the instrument very light to carry about.
The stand is screwed to the case and can be taken apart into three, flat sections for transport.
The spinet is 174cm long, 66cm wide at the widest point, (the back to the treble end of the keyboard,) and 17cm high. The stand is 65cm high. The weight is 22kg plus 3kg for the stand.
In good playing condition. £2,200.
Special offer price for July 2020. £1,800.
Sold.
Clavichord by John Storrs.
Un-fretted Clavichord with 4 1/4 octave, C-e3 compass. Double strung throughout with new brass wire. The action has been reworked and adjusted by Peter Barnes, Nov 2019. Light and portable and in full playing order complete with stand.
Size: 120cm long, 44cm deep and 13cm high. The weight is 20kg plus 3kg for the stand.
£1,350. July 2020 offer price £1,100. Now sold.
Single Manual Flemish Harpsichord after Ruckers 1637.
Made by Michael Johnson 2016. R33

This instrument is closely based on the scaling and plucking points taken from the 1637 Andreas Ruckers in the Germanisches Nationalmuseum, Nuremberg, (Inv. No. MIR 1073).

That instrument was used because it is one of the few Ruckers harpsichords that survive almost unaltered.

However the compass has been extended from the original C/E-c3 to GG-d3 chromatic. In order to keep as close as possible to original case dimensions a narrower octave span of 161mm has been used, similar to that of the French makers Taskin and Blanchet.

This instrument has a second rank of 8ft jacks plucking the single 8ft choir plucking to the left and set behind the 4ft choir. That gives the facility to work the same string together with the front 8ft jacks which work in the Ruckers direction. It also enables the 8ft choir to be used solo but plucked in two plucking points in the speaking length.

Keyboard shafts are made from poplar and the naturals are covered with casein ivory; the accidentals are made from ebony.

Beech has been used for the jack blanks and traditional holly for the tongues with peek escapement springs in preference to hog bristle.

The instrument is voiced with acetyl plectra and is strung to work at A415.

It has been strung with Historic Music Wire (p-wire) and with Stephen Birkett brass and red-brass for the bass strings.

The keyboard will transpose in both directions to give A392 and A440, however there is a loss of the endnote in whichever direction the keyboards have been transposed.

The fumed oak apron stand will collapse for more ease of transport.

Dismantled it breaks down to a top apron, a lower leg support frame and six legs.

There is also the matching stool.

The music desk and prop stick are both separate parts and are also made from fumed English oak.

The instrument has a fitted transport cover, tuning key and spare strings, plectra and service kit.
Price: £16,450.00. No VAT required.
Sold on 3.7.2020
For a music video of this harpsichord see:
Colin Booth Italian Double Manual Harpsichord after Migliai 2008.
Italian harpsichord with 2 x 8' on lower manual and 4' on upper manual. This disposition is traditional and derives from the practice of placing an octave instrument on a larger, 8' pitch harpsichord. These instruments sometimes had coupling devices, and there is a coupler on this instrument in the form of a dogleg on the 4' jacks and a sliding lower manual. There are stop levers for both 8' stops.
The compass is GG/BB short octave to c3 and transposes a=415, 440 and 465.
The bridges and nut are Walnut,the jacks and registers are wooden with a Spruce soundboard in a Cedar case which measures 226cm long, 81cm wide and 26cm high. The cheek is 59cm long.
The red, painted stand is 228cm long, 83cm wide and 64cm high and has seven turned legs and feet, which can we separated for packing flat.
This instrument is in showroom condition and has had very little use. The asking price is £16,400. Now Sold.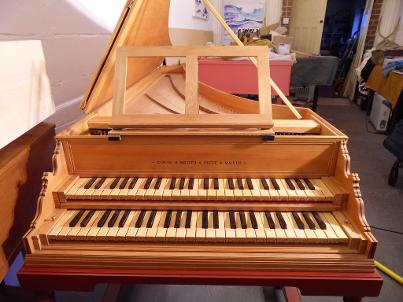 Harpsichord after Migliai by Colin Booth 2008.
This is what Colin Booth says about this harpsichord:
Two decades ago, while on a visit to the Germanisches National Museum in Nuremberg, I fell for the 2-manual Italian harpsichord in their collection. At the time the maker was unknown, but Denzil Wraight has since found evidence that it is by the leading 17th century Italian maker Migliai.
This original harpsichord is a light-weight 'inner' instrument, housed in an outer case. It has the normal small compass of only C/E short octave to c3, but demonstrates the common interest through Europe in the later 17th century, of either placing a small instrument on top of a large one at normal pitch, or actually building the octave facility into the instrument, using a second keyboard.
This tradition died out after 1700, but even without the presence of a manual coupler, it gives the player a far more interesting variety of timbre than one might expect: it can be found in Italy, France, and in the Netherlands, where the 'mother and child' virginal was quite common.
Italian harpsichords had from the start been at the heart of my harpsichord-making, and I quickly decided to build a close copy of the Nuremberg instrument. I incorporated a coupler, and the resulting varieties of tone were even more startling. These are exploited on two CDs:
Frescobaldi- keyboard music SBCD201, and Peter Philips, the English Exile SBCD992.
The sonority was deep and majestic when more than one register was employed, and beautiful and intimate on solo stops. The unique elegance of the instrument was itself highly satisfying.
In 2008, following the sale of the copy, I produced an enlarged version. The compass was extended to the common later 17th century GG/BB short octave to c3, and the keyboards transposed to give A415 / A440 / and A466. (If preferred, the pitch can be lowered by a semitone, to offer A392 instead of the high pitch A466). A lightweight lid system proved adequate as protection, and a full dismantleable table stand seemed justified by the splendid character of this instrument. The nobiliity of tone which was a feature of the copy, was more than equalled in this larger version.
I have recently ended my harpsichord-making, and no longer have a spacious workshop in which to house instruments which are not in immediate use. Hence the need to reluctantly part with what was part of my 'core collection'. The harpsichord has only rarely been used for concerts, and is in almost entirely perfect and unmarked condition. It is mature, but plectra and strings are almost new.