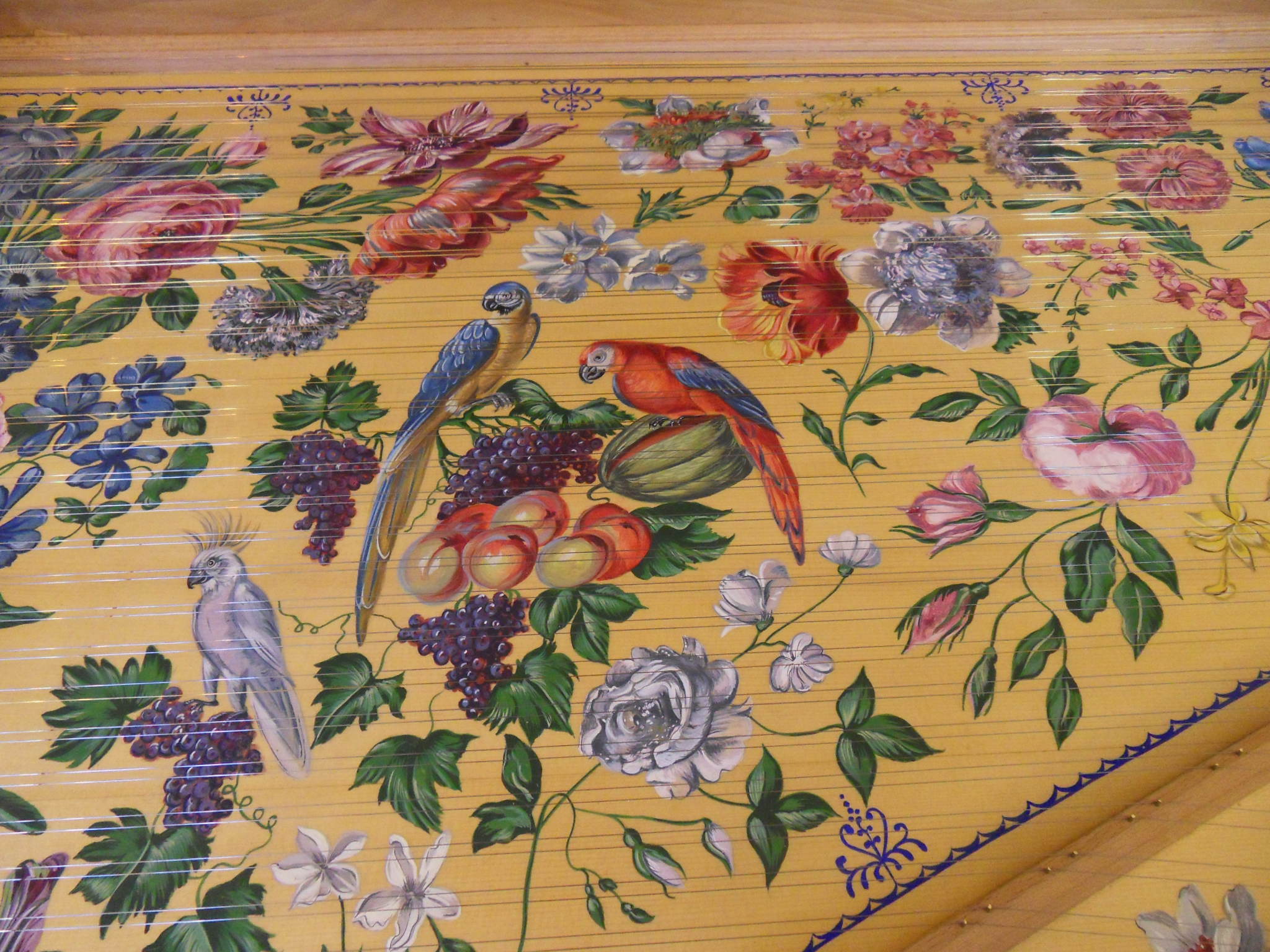 Welcome to my Website and listing of Keyboard Instruments.
English Harpsichord after Thomas Barton by Peter Barnes 2019.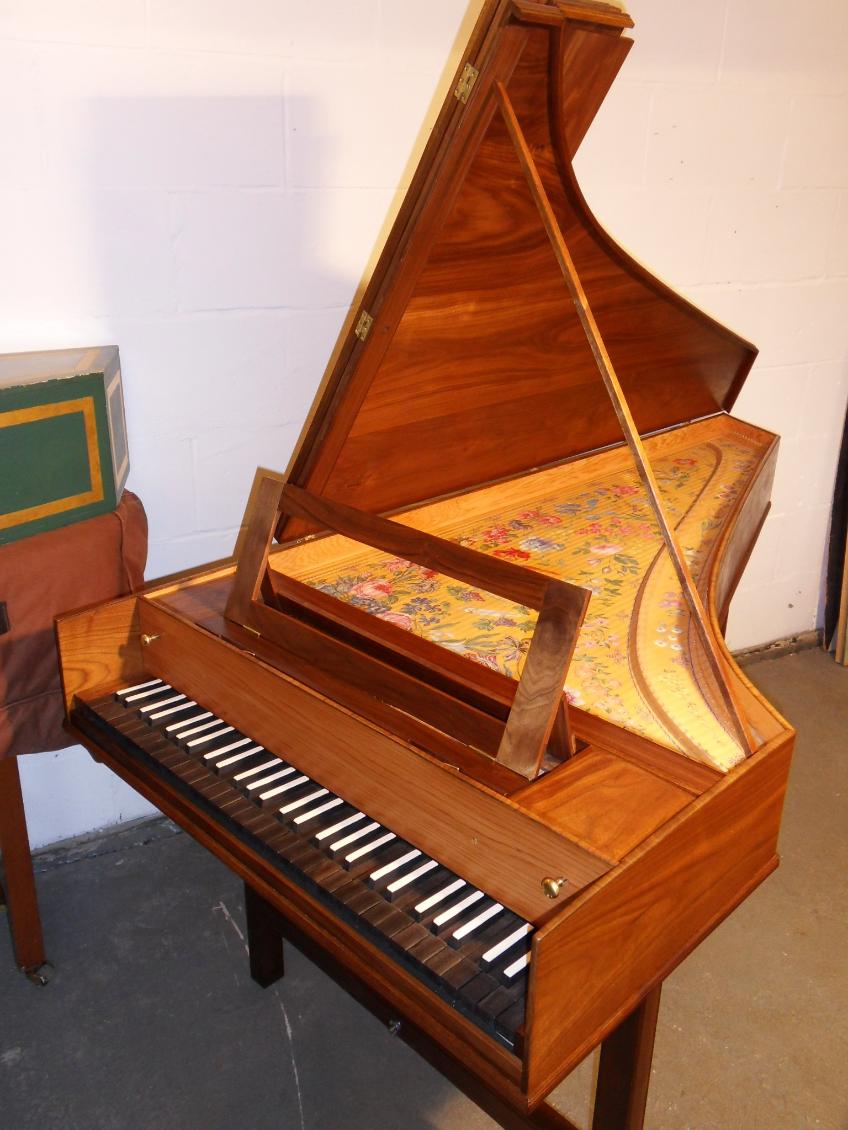 Malcolm Rose Iron and brass wire, 2x8' harpsichord, walnut case and stand. GG - f3 compass which transposes A440 / 415 without loss of top or bottom notes. This harpsichord is in the English tradition and is based on the 1713 bentside spinet by Keene and Brackley and the 1709 harpsichord by Thomas Barton. It has traditional wooden jacks, guides and keyboard, a detachable lid with solid decorative brass-work and a folding music desk. The inside of the case and the nameboard are made from Cedar wood, with cross-banded walnut capping. The walnut stand detaches from the harpsichord and can be easily taken apart for transport. This harpsichord is 193cm long, 88cm wide and 21cm deep. It has a soundboard painting by Jennifer Douglas which is closely based on the Coston Harpsichord from the Edinburgh University Collection.
This instrument was recently finished and is now available for sale.
Price: £9,800.
Click below for bigger images.
English Harpsichord 2019.mp3
FOR IMMEDIATE SALE

Michael Johnson FLEMISH SINGLE MANUAL HARPSICHORD R33 c.2016

This instrument is closely based to the scaling and plucking points taken from the 1637 Andreas Ruckers in the Germanisches Nationalmuseum, Nuremberg, (Inv. No. MIR 1073) that instrument was chosen because it is one of the few Ruckers harpsichords that survive almost unaltered.

However the compass has been extended from the original C/E-c3 to GG-d3 chromatic. To keep as close as possible to original case dimensions a narrower octave span of 161mm has been used, similar to that of the French makers Taskin and Blanchet.

This instrument has also a second rank of 8ft jacks plucking the single 8ft choir set behind the 4ft choir. It gives the facility to work the same string together with the front 8ft jacks.This gives a two 8ft sound that is in many ways preferable to the conventional one using two choirs of strings.
Keyboard shafts are made from poplar and the naturals are covered with casein ivory; the accidentals are made from ebony. Beech is used for the jack blanks and traditional holly for the tongues with peek escapement springs.

The instrument is voiced with acetyl plectra and is strung to work at A415 with p-wire iron and (Historic Music Wire) brass and red-brass for the bass strings.

The keyboard will transpose in both directions to give A392 and A440, however there is a loss of the endnote in whichever direction the keyboard is transposed.

The asking price is £18,950 for this instrument complete with stool, spare strings, plectrum and tuning key. And a Vogel fitted transport cover.
Clavichord by Douglas Hollick, 1982.
Copied from a five octave, brass strung clavichord by Hass, this fine instrument was commissioned by the current owner with a lid text, soundboard painting, decorative turned stand and case painting which is in excellent condition.
The case measures 176cm long, 57cm wide and 18cm deep. The stand can be easily dismantled into three sections for transport.
The clavichord is in playing order and available for sale for £1,950. It could be further improved with replacement strings including over-wound bass strings, a cosmetically improved repair to the soundboard (see photos) and adjustment of the keys and tangents. This would cost a further £1,200.
Under Offer.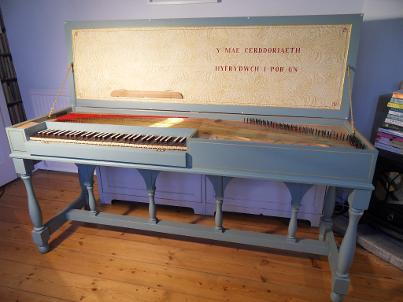 Here is a summary of instruments for sale, which are listed in more detail below:
Updated February 2019.
Peter Barnes, English Harpsichord after Thomas Barton.
Iron stringing with 2 x 8' stops, Walnut case and stand. Soundboard painting by Jennifer Douglas. Transposing 415/440 GG-f3. Now finished and for sale for £9,800

Single Manual Flemish Harpsichord after Delin.
In process of construction, a single manual Flemish harpsichord, light and of modest proportions.
2 x 8' stops, GG-e3 Transposing 415/440.
The case measures 210cm long, 88cm wide and 26cm high.
Price depending on decoration, from £7,000.
Double Basses by Peter Barnes 2016 and 2018.
Double Basses after Domenico Montagana c. 1750, for sale £1,800 and £3,800. (See Double Bass page for details double-bass.php )
Used instruments:
5 0ctave clavichord after Hass by Douglas Hollick. Made in 1982. See Above.
Michael Johnson Single Manual Harpsichord. See Above.
Zuckermann Italian Harpsichord, nicely painted in blue, with turned stand and decorative lid hinges c.1970. Playing on one register but needs attention. £600. Under offer.
Unmade Zuckermann Italian Virginal kit 1978. Missing some hardwear parts. £400. Now sold.
110 unused David Bolton white jacks and tongues £120.
Virginals, c.1980.With Walnut case and wooden jacks. £1,350. Under offer.
Flemish Single by Stephen Fogg. Now sold.
Harpsichord after Kirchmann, made in 1962 by John Barnes.
FF-f3 five octave compass. 2 x 8' and 4' stops with buff.
Re-strung with Rose Iron and Brass, replacement action cloth and set up.
Available for long term hire at very favourable rates (because I need more space in my workshop!)
You can contact me by phone on 01373 831498 or (+44)7733619002, or by email peterbarnes850@btinternet.com or via this page: contact-us-and-instrument-transport-links.php
Double Manual French Harpsichord after Taskin, by Hugh Craig 1980.
2x8' and 4. Buff stop. Transposing 440/415. Case and soundboard decoration in immaculate condition but requires some adjustment, particularly to the top of the upper manual, which is voiced too loudly.
The case is 237cm long x 98cm wide and 37cm high. the legs are 59cm high and remove for transport.
This harpsichord can be seen and played near Saxmundham in Suffolk. I visited it and tuned it to a=440 in February 2019.
£4,000. Now sold.
Virginals, c.1980.
Walnut case, wooden Jacks and music desk. Strung in Iron and brass wire. BB-d3. Tunes to A=440/415. In good playing condition. Light, and easy to transport. £1350, or £1850 including a custom made walnut stand. Now sold.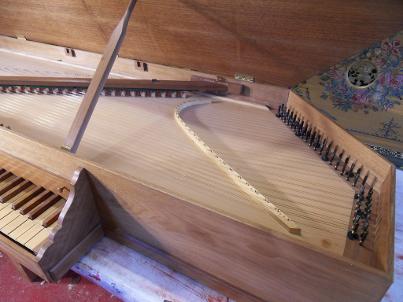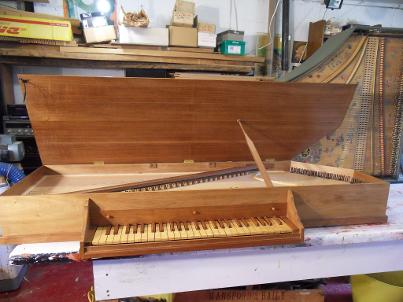 Flemish Harpsichord by Stephen Fogg, c.1967.
Single Manual 8' with buff and 4' stops.
AA-f3 compass.
Wooden jacks and registers.
Can be tuned to a=440 or 415 and could be converted to enable the keyboard to transpose.
In playing condition.
Accomplished and detailed lid painting by Terry Thorn.
Price £2,250. Sold.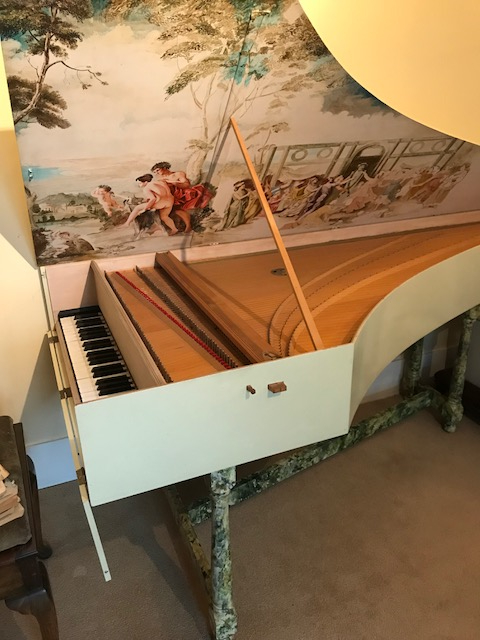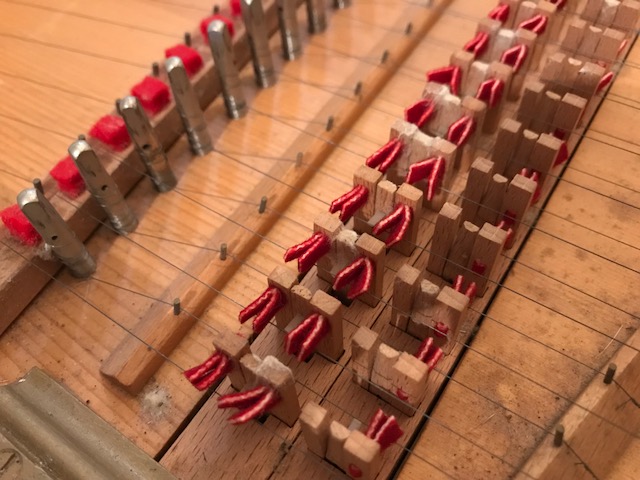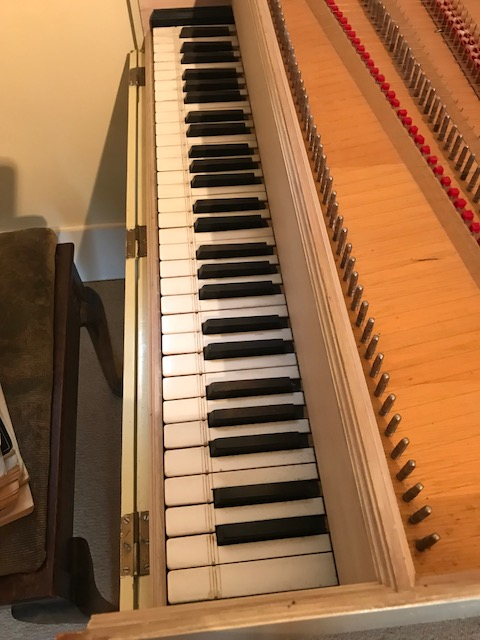 Now being made:
Single Manual Flemish Harpsichord
after Delin. (Similar to photos on right and below)
Traditional soundboard painting by Jennifer Douglas, printed papers and marbled case decoration.
2 x 8' stops plus buff. The compass is GG-f3 and the keyboard transposes 415/440.
Available with choice of decoration from £7,000.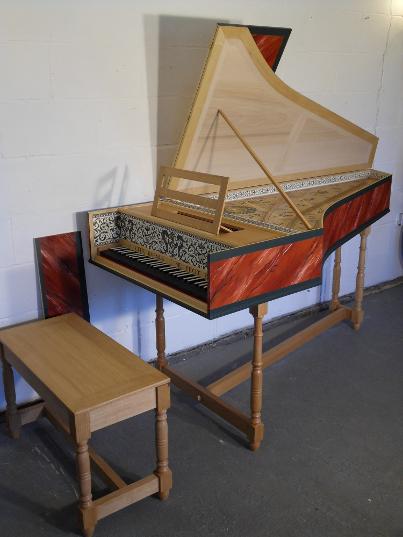 Harpsichord after Kirchmann, made by John Barnes 1962.
FF-f3 compass, can be tuned to a=440 or 415.
2 x 8 foot stops plus 4 foot and buff stop.
Traditional sound, but 'revival' style case design.
Re-strung with Malcolm Rose's iron and brass wire, newly set up with new cloth on keyframe.
Available for long term hire.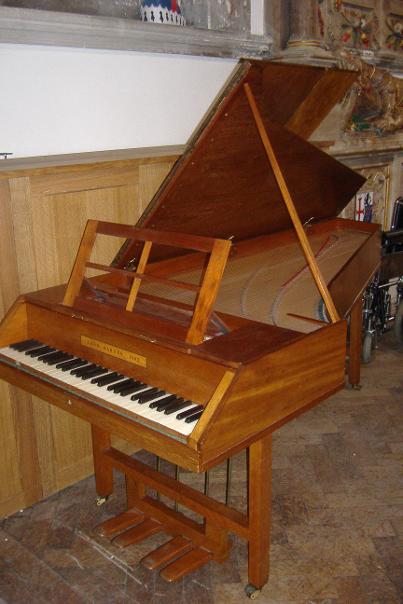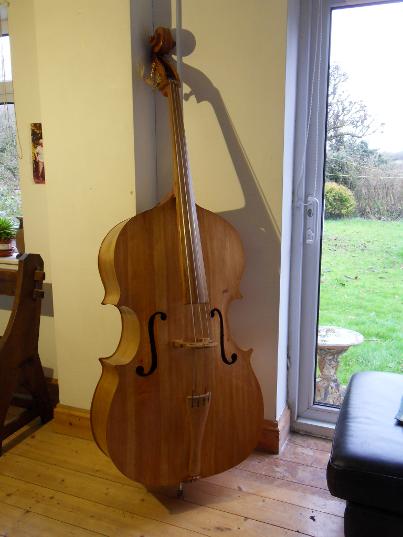 Double Bass after
Domenico Montagana c. 1750.
Baroque neck angle suitable for traditional gut strings.
made by Peter Barnes in 2016,
for sale £1,800.
Double Bass after
Domenico Montagana c. 1750,
made by Peter Barnes in 2018, Maple neck, sides and back, Sitka Spruce table and ebony fingerboard, for sale £3,800.