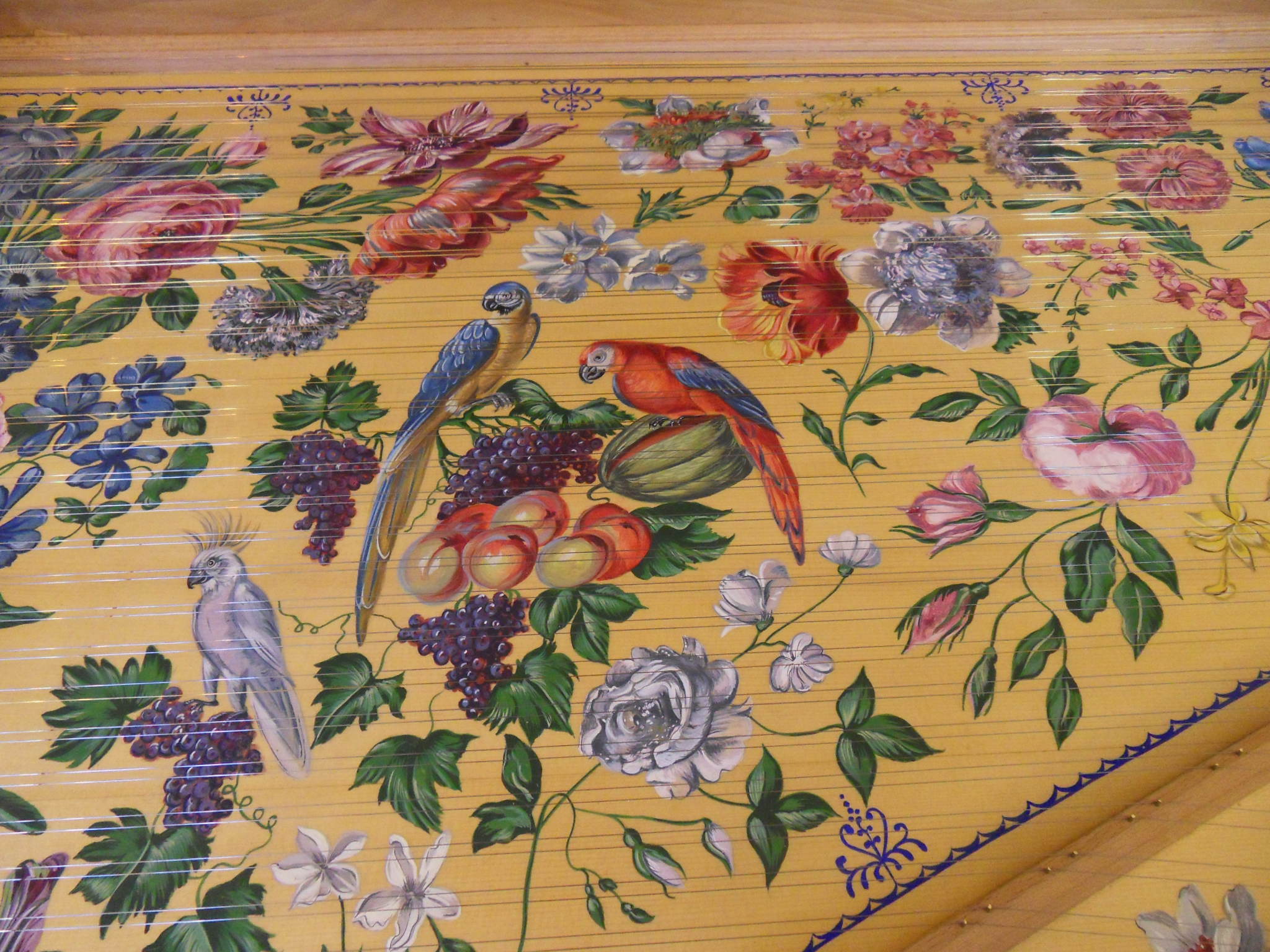 Welcome to my Website and listing of Keyboard Instruments.
Peter Barnes Harpsichords is Pro Britain, Pro Europe and Pro Remain!
Italian Harpsichord by Colin Booth, 2018.
This stunning harpsichord is new, and has only been used once - for a hiring with 'The Orchestra of the Age of Enlightenment'.
Brass Strung, 2 x 8' stops with GG-d3 compass which is transposing 415/440, and to 466 with loss of the top note.
The case measures 218cm long, 86cm wide and 20cm deep and the stand can be taken apart so that it can be laid flat on the instrument for transport. There is a padded cover for the harpsichord and the turned legs.
The case is decorated with marbled paintwork and there is a very decorative rose.
The asking price for this instrument is £11,500.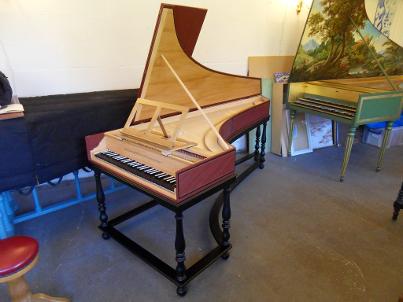 Harpsichord by Douglas Hollick 1990.
Single Manual Harpsichord in good condition, made and recently serviced by Douglas Hollick. Copy of Donzelague.
Coming to my showroom on 14th October 2019. More details to follow.
Please accept my apologies that these photographs are upside down due to technical glitch!
Asking price in the region of £8,000.
Michael Johnson Harpsichord 2012.
Single manual Flemish harpsichord with 2x8'stops, buff stop and 4' stop, with a compass of GG-d3, transposing 392/415/440.
This harpsichord belongs to a professional musician who has recently moved to Edinburgh. It is in superb condition and the regulation is even and responsive. Michael Johnson is one of the U.K's foremost makers and has exported his instruments all over the world. It comes complete with matching stool and fully padded transport cover.
Size: 222cm long, 88cm wide 31cm deep.
Now Sold.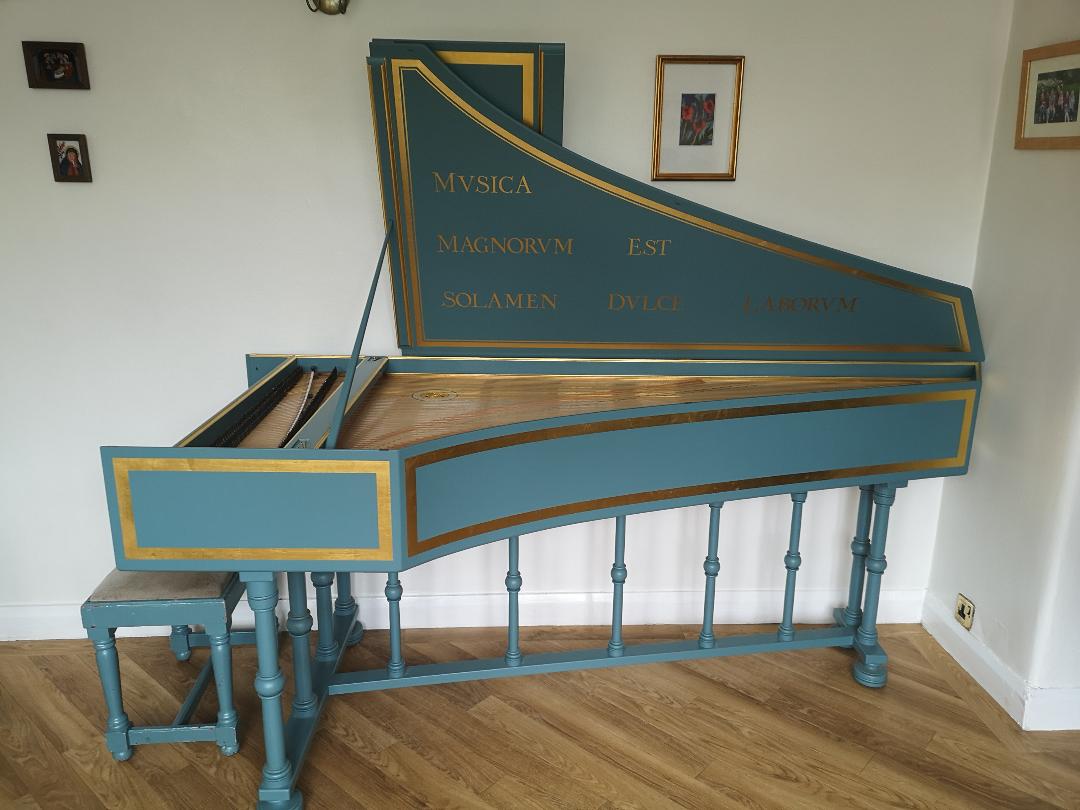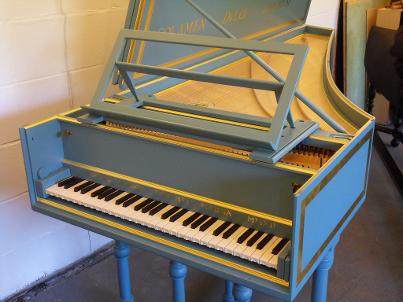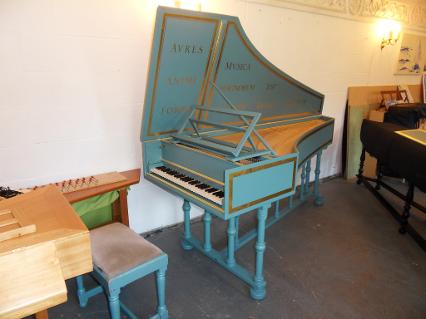 English Harpsichord after Thomas Barton by Peter Barnes 2019.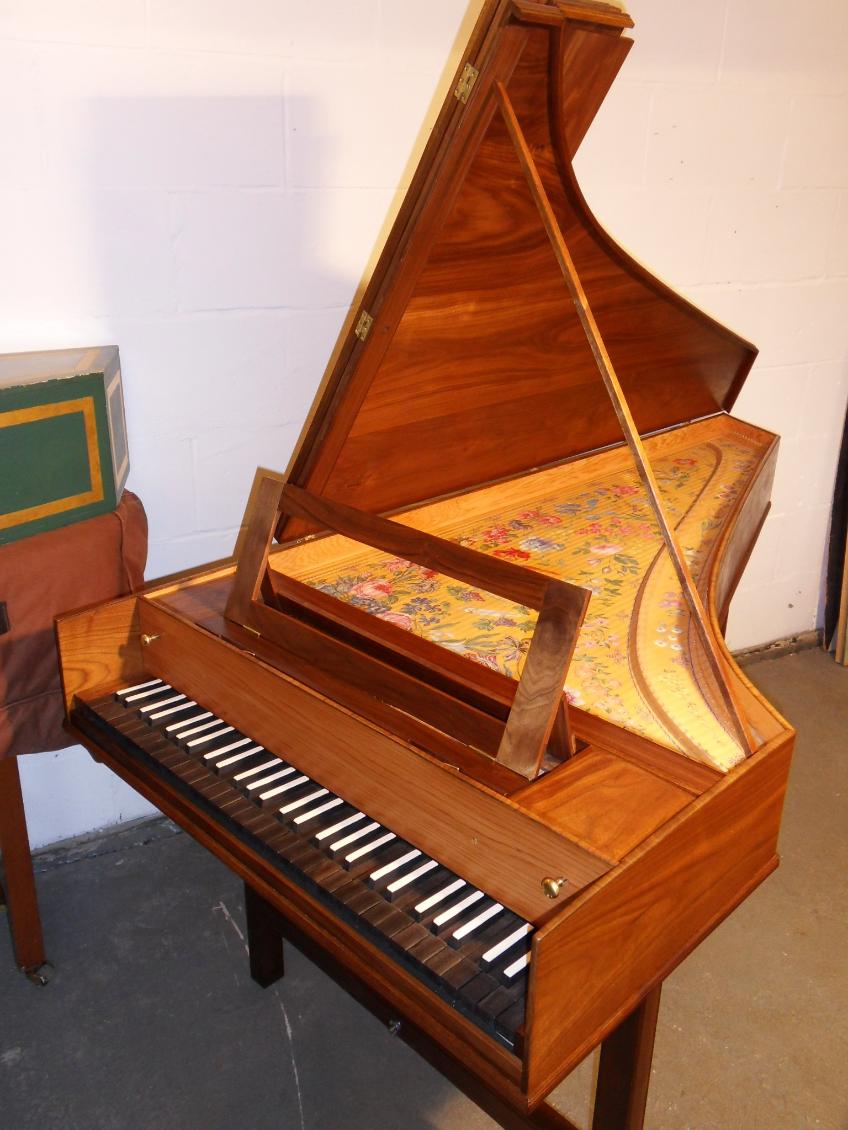 This harpsichord, made by Peter Barnes in 2019, is in the English tradition and is based on the c.1715 bentside spinet by Keene and Brackley and the 1709 harpsichord by Thomas Barton. It has traditional wooden jacks, guides and keyboard, a detachable lid with solid decorative brass-work and a folding music desk. The inside of the case and the nameboard are made from Cedar wood, with cross-banded walnut capping.
The harpsichord is strung with Malcolm Rose Iron and brass wire, it has 2x8' stops and a walnut case and stand. The GG - f3 compass transposes A440 / 415 without loss of top or bottom notes.
The stand detaches from the harpsichord and can be easily taken apart for transport. This harpsichord is 193cm long, 88cm wide and 21cm deep. It has a soundboard painting by Jennifer Douglas which is closely based on the Coston Harpsichord from the Edinburgh University Collection.
Sold, but available to commission for £9,800, or £8,300 without the soundboard decoration.
Click below for bigger images.
English Harpsichord 2019.mp3
Delin Flemish Harpsichord
by Oliver Moor,
2000.
2 x 8' stops with buff, GG-e3 compass transposing 415/440 with the full compass, and 465 with the loss of the top note. Strung in Rose Iron and Brass, with delrin plectra and wooden jacks. In full playing condition.
Traditional soundboard painting after Delin, printed case papers and red case paintwork in good condition.
The case is 215cm long, 91cm wide and 28cm deep.
The stand takes apart into three sections for ease of transport.
This lovely harpsichord can be seen in Pinner, N.W. London.
The asking price is £7,700.
Bentside spinet by Peter Barnes 2002.
This spinet is made in American Walnut with Cedar wood marquetry nameboard and cross banded capping. It is a close copy of an original spinet made by Keene and Brackley in c.1715. (Please see my page
keene-and-brackley-spinet-c1715.php
for photographs of the original instrument.)
This spinet has been restrung with Malcolm Rose Brass wire and revoiced with Celcon plectra by Colin Booth in 2010.
It can be tuned to A=415/440 and could be made into a transposing instrument for a further £300.
The case measures 180cm x 65cm x 19cm (70" x 25" x 8") and the stand is 65cm (25 1/2") high and can be easily taken apart into three pieces for transport. The instrument weighs about 25kg.
Sold.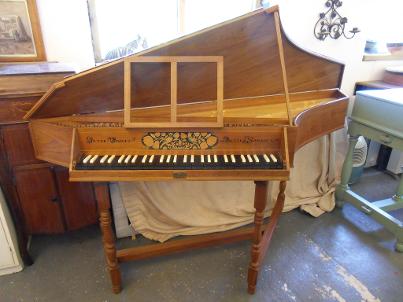 Spinet by John Storrs.
A conveniently small spinet in full working order, suitable for a small Early Music ensemble. C-f3 compass which can be tuned to a=415/440.
The light, Poplar case measures 116cm long, 61cm at the widest point and 17cm deep. the stand takes apart for transportation. (A previous customer took one of these popular spinets home with her on the train!)
For sale £1,150.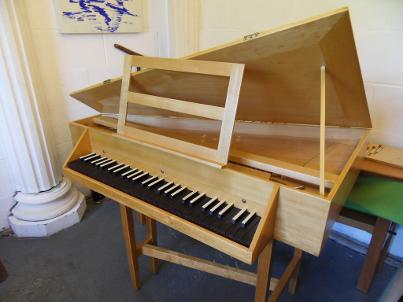 Michael Johnson FLEMISH SINGLE MANUAL HARPSICHORD R33 c.2016
This instrument is closely based to the scaling and plucking points taken from the 1637 Andreas Ruckers in the Germanisches Nationalmuseum, Nuremberg, (Inv. No. MIR 1073) that instrument was chosen because it is one of the few Ruckers harpsichords that survive almost unaltered.

However the compass has been extended from the original C/E-c3 to GG-d3 chromatic. To keep as close as possible to original case dimensions a narrower octave span of 161mm has been used, similar to that of the French makers Taskin and Blanchet.

This instrument has also a second rank of 8ft jacks plucking the single 8ft choir set behind the 4ft choir. It gives the facility to work the same string together with the front 8ft jacks.This gives a two 8ft sound that is in many ways preferable to the conventional one using two choirs of strings.
Keyboard shafts are made from poplar and the naturals are covered with casein ivory; the accidentals are made from ebony. Beech is used for the jack blanks and traditional holly for the tongues with peek escapement springs.

The instrument is voiced with acetyl plectra and is strung to work at A415 with p-wire iron and (Historic Music Wire) brass and red-brass for the bass strings.

The keyboard will transpose in both directions to give A392 and A440, however there is a loss of the endnote in whichever direction the keyboard is transposed.

The asking price is £18,950 for this instrument complete with stool, spare strings, plectrum and tuning key. And a Vogel fitted transport cover.
Here is a summary of instruments for sale:
Newly arrived:
John Storrs small Spinet. £1,195.
Italian Harpsichord by Colin Booth, 2018. £11,500.
Bentside Spinet by Peter Barnes, 2002. £3,900.
Available to commission:
Peter Barnes, English Harpsichord after Thomas Barton.
Iron stringing with 2 x 8' stops, Walnut case and stand. Soundboard painting by Jennifer Douglas. Transposing 415/440 GG-f3. Available to commission for £8,300 without soundboard decoration or £9,800 with soundboard decoration.

Finished soon:
Single Manual Flemish Harpsichord after Delin.
In process of construction, a single manual Flemish harpsichord, light and of good proportions.
2 x 8' stops, GG-e3 Transposing 415/440.
The case measures 210cm long, 88cm wide and 26cm high.
Price including soundboard decoration, £9,000.
Available now:
Double Basses by Peter Barnes 2016 and 2018.
Double Basses after Domenico Montagana c. 1750, for sale £1,800 and £3,800. (See Double Bass page for details double-bass.php )
Used instruments:
Bentside spinet by Peter Barnes 2002.
Choice of two Michael Johnson Single Manual Harpsichords. See Above.
110 unused David Bolton white jacks and tongues £120.
You can contact me by phone on 01373 831498 or (+44)7733619002, or by email peterbarnes850@btinternet.com or via this page: contact-us-and-instrument-transport-links.php
Now being made:
Single Manual Flemish Harpsichord
after Delin. (Similar to photos on right and below)
Traditional soundboard painting by Jennifer Douglas, printed papers and marbled case decoration.
2 x 8' stops plus buff. The compass is GG-f3 and the keyboard transposes 415/440.
Complete with soundboard decoration £9,000.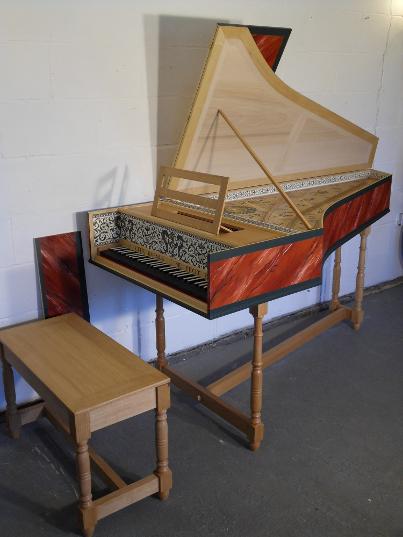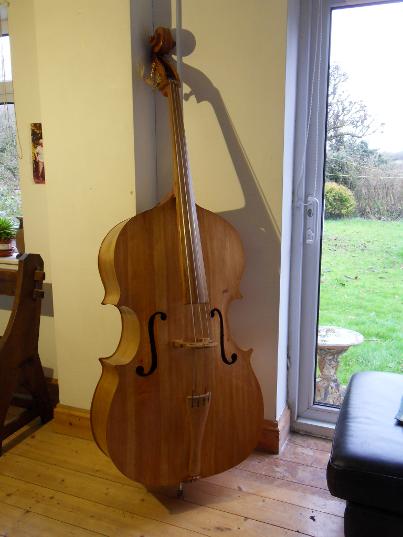 Double Bass after
Domenico Montagana c. 1750.
Baroque neck angle suitable for traditional gut strings.
made by Peter Barnes in 2016,
for sale £1,800.
Double Bass after
Domenico Montagana c. 1750,
made by Peter Barnes in 2018, Maple neck, sides and back, Sitka Spruce table and ebony fingerboard, for sale £3,800.