I'm currently undertaking a substantial repair to an English double bass made c.1800.
I have one bass for sale: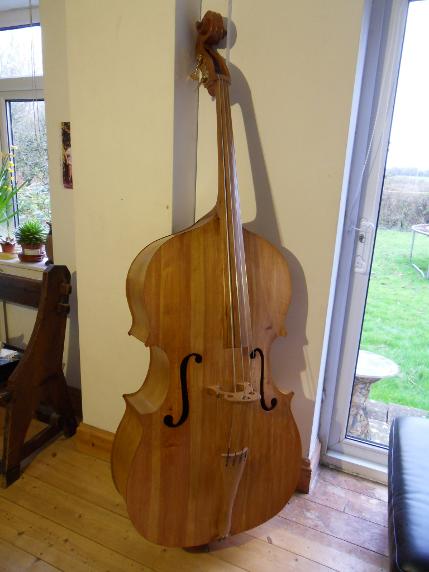 Double Bass made by Peter Barnes in 2016.
Modelled on the Domenico Montagana bass made in the 1750's now owned by Chi Chi Nwanoku.
This bass has a full, rich sound and is a large 3/4 size. The soundboard measures 110cm x 66cm and the body is 23cm deep.
This bass has a carved Norwegian Red Spruce table, Lime sides, Poplar back, Crab Apple fingerboard and Beech neck and scroll. The neck on this double bass is set at a shallow angle suitable for traditional Baroque style gut strings, although it is currently strung with modern strings.
The tone is large and reedy with a powerful bass register. The instrument is now considerably darker than the photographs suggest.
For Sale £1,100, including a thick, padded travel bag.
English Double bass c.1800 restoration.
I started the restoration of this fine English Double Bass in January 2021. The brief is to restore it to playing condition for the enjoyment of the current owner.
Various challenges included removing the table, which had been secured to the sides with glue and panel pins. The bass bar, which was carved as one with the bass half of the table, had broken the table and dropped 20mm into the upper bout of the bass. The sound post was nailed in place and the top end of the fingerboard had been sawn and re-glued with a post holding it away from the table. In addition, the fingerboard was out of alignment with the foot of the bass.
Some internal bars had come loose and there was some unsightly damage and repairs.
This is a lovely instrument to work on and I feel very privileged to do so.