Welcome to my listing of New and Used Keyboard instruments!
But first, Chris Hogwood's keyboard instruments are going under the hammer on 12th March 2013 at Gardiner Houlgate in Corsham. There are more details on my Chris Hogwood page: chris-hogwood-keyboard-instruments.php
Here is a summary of instruments which are listed in more detail below. Updated 8.1.15:
Chamber Organ by Bates and Son c.1825. £24,000.
Keene and Brackley Spinet c.1715. £15,995.
John Storrs Double Manual Harpsichord. GG-f3, 2 x 8' with Buff stop and 4' stops, Marbled case in good working order. £5,995.
Spinet by Roger Murray after Hitchcock. Compass GG-g³, pitch currently A440. Max. length 190cm. Case veneered and cross-banded in mahogany, lid and stand solid mahogany. Price £4500.
Zuckermann Concert V single manual harpsichord 1975. GG-f3 2 x 8' and 4'. Well made, painted dark brown and requiring re-pinning on some of the nut to increase plectrum lengths, replacement strings, replacement plectra, regulation and voicing. Available as seen £1,995 or with the above work completed £3,500.
Harpsichord by John Morley, 1965. Available reconditioned with new Delrin plectra. A great instrument for practice and chamber music performances. £1,600. Or as seen for £950.
Flemish Double-manual Harpsichord by Michael Johnson after 1637 Andreas Ruckers. GG-d3 compass, transposing a=392/415/440. 2 x 8' with buff plus 4' stops.£20,950.
Coming shortly: Feldberg Double manual harpsichord 'for spares or repair' as seen £1,400.
You can email me on: mailto:peterbarnes850@btinternet.com
Keene and Brackley Spinet c.1715.
This English Bentside Spinet was owned and extensively studied by the late John Barnes. It has been much copied since a plan and booklet of making information was first produced by John Barnes in 1985. Plans for this instrument are available from Marc Vogel in Germany and the booklet called 'Making a Spinet by Traditional Methods' is available from myself. This spinet was sold to Peter Mole in 2006 and he commissioned an extensive restoration by the expert maker and restorer, Malcolm Rose, which was completed in February 2009. These photographs show the instrument's current condition with a new stand and music desk, new jack-rail, new jacks and a restoration of the original soundboard. The sound is sweet and clear. This is a rare chance to purchase an early 18th Century spinet in remarkable condition. Further photographs are on this page: keene-and-brackley-spinet-c1715.php
Size: 180cm long, 62cm wide and 20cm high.
On sale for £15,995.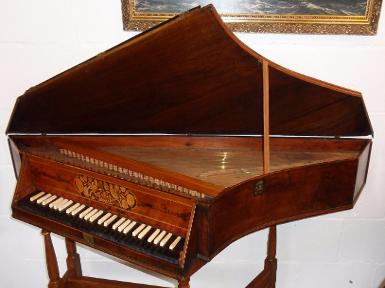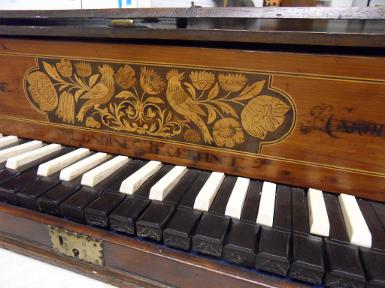 Zuckermann Flemish Concert V single manual harpsichord made by Alex Loretto, Auckland, 1975. 4' and 2 x 8' stops with buff stop. The compass is five octaves, GG-g3 and it can be tuned to a=440 or a=415. It has been well made, and the case is finished in a dark brown lacquer which reveals the wood grain. The tuning pins are of the traditional oblong section and have been drilled for ease of stringing. The spacing of the strings is incorrect, leading to short plectrum lengths on the front 8' and the 4' stops. The rear 8' stop is serviceable. 225cm long, 93cm wide and 28cm high. Available as seen for £1995, or with replacement strings, re-pinning to the nut, replacement plectra, voicing and regulation, for £3,500.
Chamber organ by
Theodore Bates & Son, Ludgate Hill, London, c.1825.
Location: Devon, England Condition: Excellent
Dimensions:
Height 2540mm Width 1650mm Depth 775mm
Specification Dulciana 8ft
Open Diapason 8ft
Stopt Diapason Bass 8ft Clarabel 8ft
Principal 4ft
Flute 4ft
Hautboy 8ft Fifteenth 2ft
The classical case of flamed Brazilian rosewood is decorated with carved impost, Corinthian capitals and an elaborate cornice. The flat back casework pipes retain their original gilding.
The keyboard has ivory naturals and ebony sharps. The drawstop heads are solid ivory with copperplate hand engraving. The brass candle sconces are original.
The organ has a hitch down Venetian Swell, 3 Combination pedals and a straight and flat 18 note pedalboard. It can be blown by foot or hand.
The instrument is in first class unaltered condition and has never been modified for electric blowing. The double rise reservoir, feeder bellows and pallets have been professionally and sensitively restored. The pipework retains its original cone tuning.
The pedalboard, foot pedals and keyboard retract and the instrument is on rollers to facilitate maintenance.
Th
e

i

n

s

t

r

u

me

n

t

is thought to have been

b

u

i

l

t

f

o

r the Duke of Norfolk at

B

ra

n

d

s

Ha

t

c

h

Ho

u

se

. For sale for
£24,000.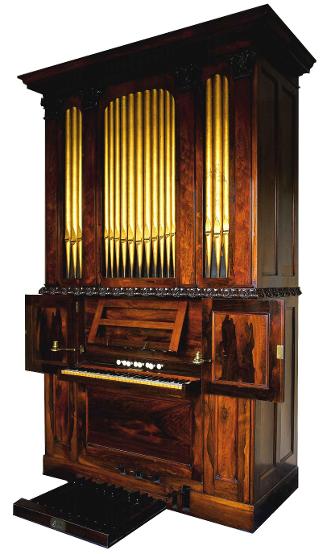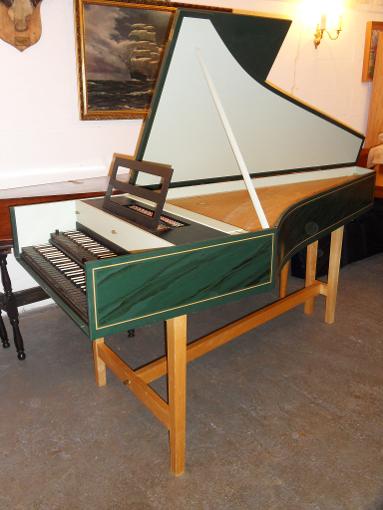 Double Manual Harpsichord by John Storrs c.1995, renovated by Colin Booth. This harpsichord has wooden jacks, 2 x 8' with buff and 4' stops with a compass of GG-e3 It can be tuned to a=440 or 415. This harpsichord has been well maintained and carefully looked after. The case and stand are in good decorative order and this harpsichord is in very good playing condition. £5,995.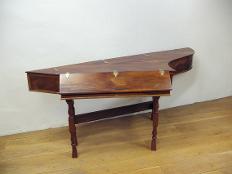 Spinet by Roger Murray after Hitchcock. Compass GG-g³, pitch currently A440 but can also be tuned to A=415. Maximum length 190cm. Case veneered and cross-banded in mahogany, lid and stand solid mahogany. Price £4500.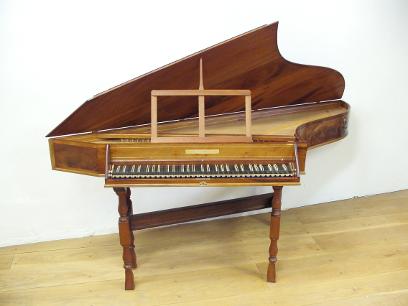 English Harpsichord after Thomas Barton by Peter Barnes.
Brass strung 2x8' harpsichord with walnut case and stand. GG - f3 compass which transposes A440 / 415. This harpsichord has traditional wooden jacks, guides and keyboard, a detachable lid with solid brass-work and a folding music desk. The solid walnut stand detaches from the harpsichord and can be easily taken apart. The harpsichord is 6' 3" long, 35" wide and 8" deep. Sold. Orders taken.
PB English Harpsichord.MP3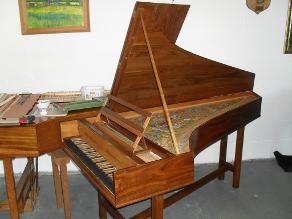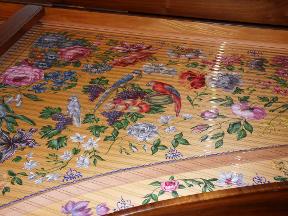 Michael Johnson Harpsichords for sale:
three sold - only one left!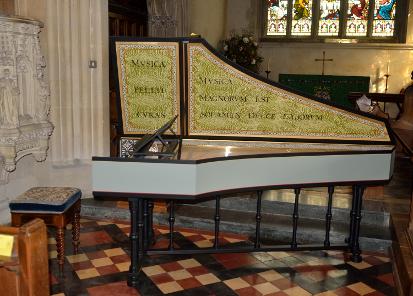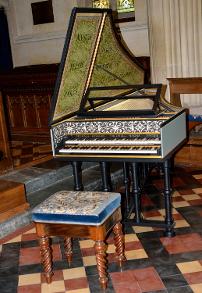 Michael Johnson Flemish Double Manual harpsichord
The compass of this Double Manual Harpsichord has been extended from the original C/E-c3 to GG-d3 chromatic and in order to keep as close as possible to the original case dimensions, a narrower 18th century French octave span of 161mm has been used.
The instruments all have two 8ft choirs plus a 4ft with a buff stop working on the lower manual 8ft choir on double manual instruments. On those there is a French style draw coupler to allow the upper manual 8ft choir to be used with the 8ft and 4ft choir working from the lower manual.
Removing the shaped blocks at the bass and treble will allow the keyboard to transpose in both directions giving A392 and A440 Hz however there is a loss of the extreme note from whatever transposition that has been made.
This brand new instrument is for sale, £20,950.00
Follow the link below to Michael's own website for further information.
Broadwood Square Piano, 1815. The inscription reads: 'John Broadwood and Sons. Makers to His R. Highnesses the Princesses. Great Pulteney Street, Golden Square. London.' This piano is in original conditionand is complete. It has not been previously restored. Please note that there is an extensive split in the hitch-pin rail. For sale as seen: £800. Now sold.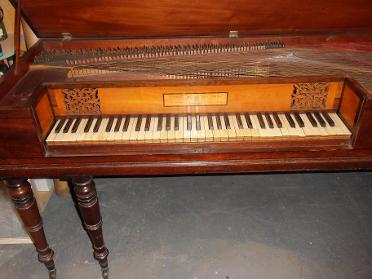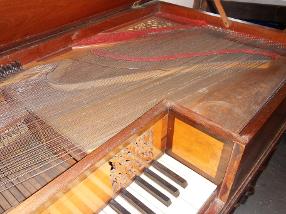 Bentside Spinet Lid and hinges c.1760. Mahogany with unpolished underside and fine set of six cast brass hinges which match the lid. Length of spine 184cm, Maximum width 61.5cm, lid flap 90cm x 18.5cm. From John Barnes collection. Sold.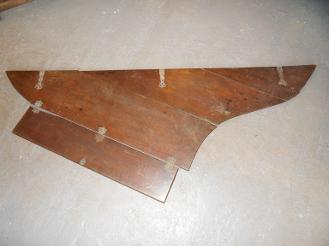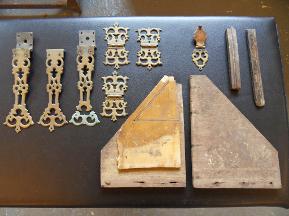 Indian Satin Wood Veneer c.1960. Cut by circular saw, 1.3mm thick. 140cm x 40cm max, 120cm x 30cm minimum, plus 4 smaller pieces of similar veneer. Would make several beautiful nameboards! £120.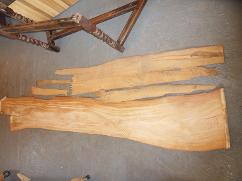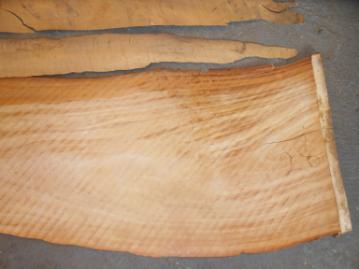 Zuckermann Italian Harpsichord
1 x 8' stop BB-e3. 6-foot long x 34''wide at the keyboard x 9''high. Currently every note plays but the voicing is too loud. A good introduction to harpsichord voicing if you want to do this yourself!
The harpsichord has two sets of strings and there is a second set of jacks available if required. The three legs un-screw and the instrument is light for transport.
sold.
I am happy to deliver within the U.K. for a reasonable charge, but please make your own transport arrangements if you are buying from abroad.
This website is updated as soon as I have new stock or sell an instrument. Go to next page:hiring-and-tuning.php