Welcome to my listing of New and Used Keyboard instruments!
Here is a summary of instruments which are listed in more detail below. Updated 9.9.14:
Coming shortly: Antique English Bentside spinet c.1740. £7,800.
Antique Italian Harpsichord c.1675. £15,600.
Chamber Organ by Bates and Son c.1825. £24,000.
New, 4.8.2014: John Storrs Double Manual Harpsichord Kit. As seen £1,995, or as finished instrument £5,500.
Double-manual French/Flemish style harpsichord carefully made from a David Bolton kit. Requires replacement strings and plectra, adjustment, setting up and voicing. Sold.

Harpsichord by John Barnes 1962. FF-f3, 2 x 8' and 4' Internally a Kirchmann copy but with a 1960's style mahogany case. £2,500.
Alec Hodsdon Spinet. £1300 including new plectra, voicing and servicing.
Zuckermann Italian Harpsichord c.1973 BB-e3, 8' with buff. Case has real gold leaf interior, and in full playing condition, re-strung and re-voiced. Only £995.
Broadwood Square Piano, 1815. Un-restored £800.
18th Century Bentside Spinet lid with fine antique hinges £1,100. Reduced to £850.
Harpsichord by John Morley. Reconditioned with new Delrin plectra. A great instrument for practice and chamber music performances. £1,600.
Two New Flemish Harpsichords by Michael Johnson after 1637 Andreas Ruckers. Double Manual GG-d3 compass, transposing a=392/415/440. 2 x 8' with buff plus 4' stops. £20,950. Choice of two Single Maunal harpsichords, GG-d3 with the above features £15,500 and £14,750.
You can email me on: mailto:peterbarnes850@btinternet.com
Coming shortly: Antique English Bentside spinet made by John Harris, London, c.1740. GG-g3, 5-octaves.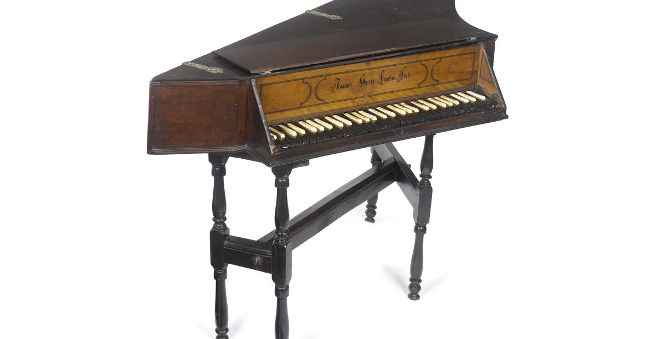 Here is the description used by Bonhams when the instrument was sold to the Early Music Shop on 31st October 2012:
An English Bentside Spinet by John Harris, London circa 1740
Inscribed on nameboard Joannes Harris Londini Fecit, the case possibly of red walnut with pierced brass accessories, the interior, jackrail, nameboard, and keyboard cheeks with parallel stringing and triangular inlay decoration, the five octave keyboard of 61 ebony and ivory keys from G to G, restorations and renovations, 176cm in length and 70cm in width, on an antique stand comprising four ring turned baluster legs.(2)
FOOTNOTES
See D. Boalch, 1956; Makers of the Harpsichord and Clavichord 1440-1840 page 42 and the matrix of Surviving Instruments by John Harris, no., 4

The uncle of the present vendor who was a collector of antiques, bought the above Spinet from Horace Jackson, around seventy years ago.

This Spinet was until recently part of the fine and decorative contents of Shelley's Hotel, in Lewes, Sussex where the great poet once lived and worked. This hotel was furnished some time ago with family pieces from Antioch House, Lewes, by the vendor's family. Other selected items from this collection were sold by Bonhams, Knightsbridge in the Period Design Auction of 10 July 2012.

John Harris used premises on Red Lion Street, Holborn, London with his business partner John Byfield. Harris became organ-builder for the Chapels Royal and built organs for St. Martin in the Fields in 1726 and for the Chapel Royal at St James' Palace in 1710.
Restored and in full playing condition. More photographs and details to follow. £7,800.
Italian Single Manual Harpsichord, Anonymous, Naples, c.1675. With authentication and report by Grant O'Brien in 2013 who writes 'This particular instrument is an extremely rare example of a Neapolitan harpsichord which has survived with its original 1 x 8' disposition'.

Available, un-restored, from a private collection for £15,600. 22.7.2014.
Chamber organ by Theodore Bates & Son, Ludgate Hill, London, c.1825.
London Location Devon, England Condition Excellent
Dimensions
Height 2540mm Width 1650mm Depth 775mm
Specification Dulciana 8ft Open Diapason 8ft Stopt Diapason Bass 8ft Clarabel 8ft Principal 4ft Flute 4ft Hautboy 8ft Fifteenth 2ft
The classical case of flamed Brazilian rosewood is decorated with carved impost, Corinthian capitals and an elaborate cornice. The flat back casework pipes retain their original gilding.
The keyboard has ivory naturals and ebony sharps. The drawstop heads are solid ivory with copperplate hand engraving. The brass candle sconces are original.
The organ has a hitch down Venetian Swell, 3 Combination pedals and a straight and flat 18 note pedalboard. It can be blown by foot or hand.
The instrument is in first class unaltered condition and has never been modified for electric blowing. The double rise reservoir, feeder bellows and pallets have been professionally and sensitively restored. The pipework retains its original cone tuning.
The pedalboard, foot pedals and keyboard retract and the instrument is on rollers to facilitate maintenance.
Th
e

i

n

s

t

r

u

me

n

t

is thought to have been

b

u

i

l

t

f

o

r the Duke of Norfolk at

B

ra

n

d

s

Ha

t

c

h

Ho

u

se

.
Picture to follow. £24,000.
New, 4.8.2014

John Storrs -

Double Manual Harpsichord Kit.

The case is made of poplar and has recessed case mouldings and turned legs. The only part of the kit that has been assembled is the gluing on and finishing of the keyplates and sharps as shown in the detailed photos.


As far as I know, this kit is complete except for the soundboard rose, the key to the case lock, cork for the faces of the clamps, bolts for the stand, leather for the coupler dogs and buff stop, dampers, keyboard balance washers, plectra, hitch pins, bridge pins and the instruction manual . I have provided instructions from a single manual kit by John Storrs, but the part of the instructions relating to the double keyboard is not provided. I am also happy to include leather, damper felt, plectra,hitch pins and bridge pins.

All parts are in very good condition and have not been subjected to damp. Anyone wishing to buy this kit should come and see it before committing to this large and complex project. I am selling it 'as seen' for £1,995, or as finished instrument for £5,500. Reserved.
Zuckermann Italian Harpsichord c.1973 BB-e3, Single 8' with buff. Water-gilded gold leaf interior, in full playing condition with new Malcolm Rose strings, tongues, plectra and dampers. £995.
Alex Hodsdon Bentside spinet, made in Lavenham, Suffolk in 1956.

C-e3 compass with reverse coloured keyboard and buff stop. Case made with walnut exterior and satinwood interior veneer with a solid walnut stand and music desk. Can be tuned to a=440 or a=415. Requires replacement plectra, voicing and servicing of keyboard. Now in full playing condition, this is a compact spinet with a good clear tone, ideal for small ensembles and home use. £1,300.
English Harpsichord after Thomas Barton by Peter Barnes 2013.
Brass strung 2x8' harpsichord with walnut case and stand. GG - f3 compass which transposes A440 / 415. This harpsichord has traditional wooden jacks, guides and keyboard, a detachable lid with solid brass-work and a folding music desk. The solid walnut stand detaches from the harpsichord and can be easily taken apart. The harpsichord is 6' 3" long, 35" wide and 8" deep. Sold on 17.12.13. Orders taken.

PB English Harpsichord.MP3
Michael Johnson Flemish harpsichord.

Michael Johnson's Flemish instruments are closely based on the scaling and plucking points of the 1637 Andreas Ruckers in the Germanisches Nationalmuseum, Nuremberg, (Inv. No. MIR 1073)

This instrument was chosen because it is one of the few Ruckers harpsichords that survive almost unaltered.

The compass has however been extended from the original C/E-c3 to FF-f3 chromatic. In order to keep as close as possible to the original case geometry, a narrower 18th century French octave span of 161mm has been used requiring new plans and templates to be drawn in order to achieve that necessary compression.

On this 2 x 8 + 4ft instrument the plucking directions of the front row of 8ft jacks and the 4ft jacks would be similar Ruckers however, the back 8ft register, plucking towards the bass would be in character with the work of 18th century French makers enlarging those 16th – 17th century Flemish instruments.

The keyboard shafts are made from poplar and the naturals are covered with ebony. The arcades have been cut in ebony and finished with gesso and gold leaf; the ebony accidentals have a casein ivory veneer. Beech is used for jack blanks with hornbeam tongues; hog peek is used for tongue return springs. All instruments are quilled with acetyl plectra made from 1mm sheet with a 2 degree taper to the underside. The instruments are strung to work at A415 using Malcolm Rose iron and brass wire.

Keyboards or keyboard will transpose in both directions to give A392 and A440, however there is a loss of the endnote in whichever direction the keyboards have been transposed.

This instrument has been decorated in an 18th century French style with solid brass ormolu decoration to the apron stand and leg foot.

Dimensions: Double manual FF-f3

Length 93" – 236cm

Width at keyboard 37"– 94cm

Depth 11.3/29cm

£26,000.00
Michael Johnson Single Manual Flemish Harpsichord, with an Apron stand. GG-d3, 2 x 8' with buff, and 4'.

£15,500.
Michael Johnson Flemish Double Manual harpsichord
The compass of this Double Manual Harpsichord has been extended from the original C/E-c3 to GG-d3 chromatic and in order to keep as close as possible to the original case dimensions, a narrower 18th century French octave span of 161mm has been used.
The instruments all have two 8ft choirs plus a 4ft with a buff stop working on the lower manual 8ft choir on double manual instruments. On those there is a French style draw coupler to allow the upper manual 8ft choir to be used with the 8ft and 4ft choir working from the lower manual.
Removing the shaped blocks at the bass and treble will allow the keyboard to transpose in both directions giving A392 and A440 Hz however there is a loss of the extreme note from whatever transposition that has been made.
This brand new instrument is for sale, £20,950.00
Single Manual Harpsichord after Kirchmann by
John Barnes, 1962.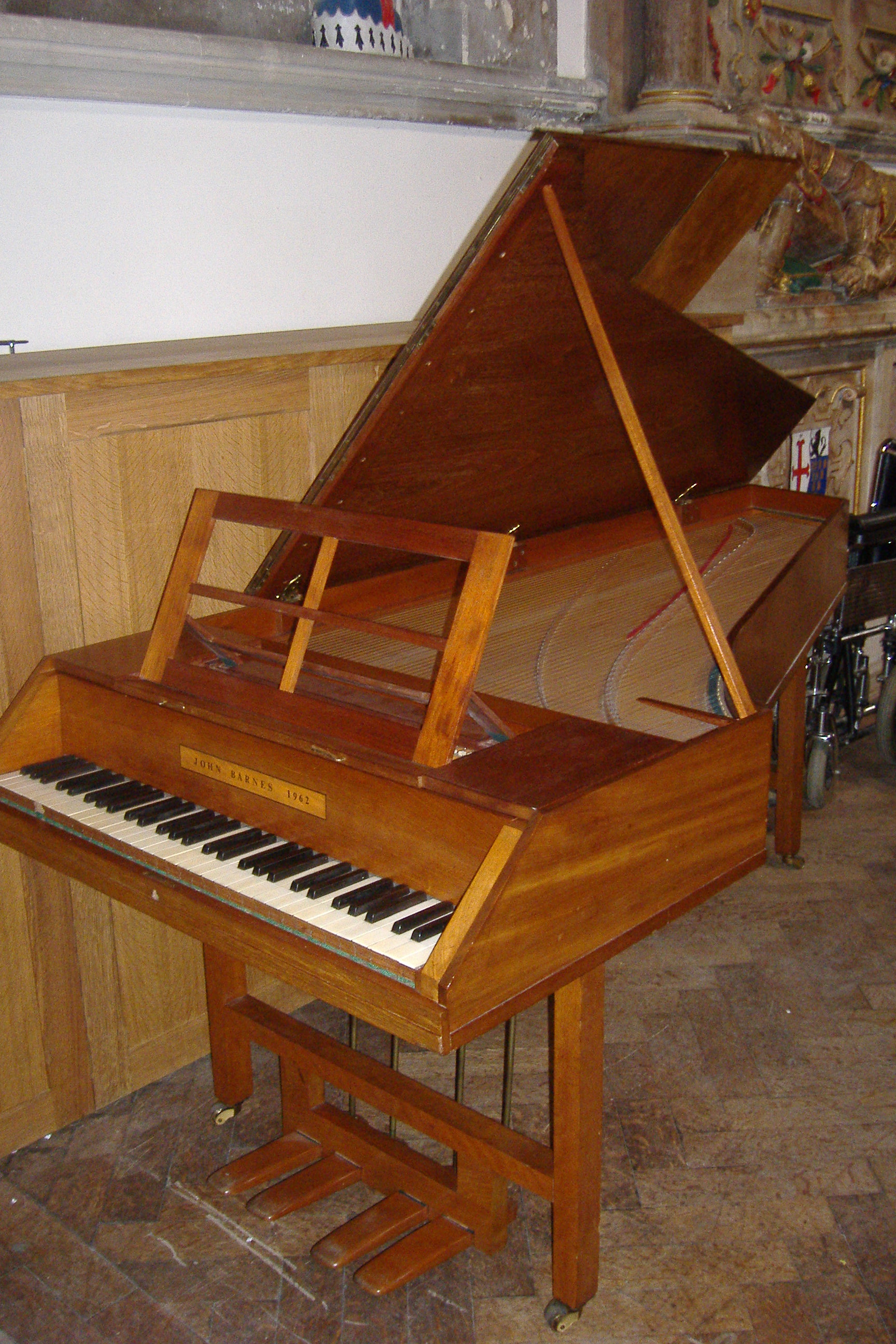 Made by John Barnes in 1962, this harpsichord is has a dated case design and pedals rather than stop levers.The case is made from recycled Mahogony which came from a bank in Guildford, Surrey. Without depressing any pedals, it sounds 2 x 8 foot stops. The left pedal silences the back 8', the second pedal silences the front 8', the third adds the 4' and the forth engages a buff stop on the front 8'.
Bridge dimensions, soundboard thicknesses, plucking points and string lengths (except the slightly shortened bass strings) are copied from Kirchman. The keyboard was rescued from a Kirchman piano c.1820.
This harpsichord is for sale for £3,500 or is available for long term hire at £60 per month plus transporting costs. Size: 212cm long, 81cm wide and 93cm high. The cheek is 60cm long. Thanks to the authentic soundboard and bridge dimensions and good string lengths this harpsichord does sound like a Kirchman in spite of the 'revival harpsichord' look of the case. £2,500.

Broadwood Square Piano, 1815. The inscription reads: 'John Broadwood and Sons. Makers to His R. Highnesses the Princesses. Great Pulteney Street, Golden Square. London.' This piano is in original conditionand is complete. It has not been previously restored. Please note that there is an extensive split in the hitch-pin rail. For sale as seen: £800.
| | |
| --- | --- |
| Bentside Spinet Lid and hinges c.1760. Mahogany with unpolished underside and fine set of six cast brass hinges which match the lid. Length of spine 184cm, Maximum width 61.5cm, lid flap 90cm x 18.5cm. From John Barnes collection. £1,100. Reduced to £850. | |
| | |
| --- | --- |
| Indian Satin Wood Veneer c.1960. Cut by circular saw, 1.3mm thick. 140cm x 40cm max, 120cm x 30cm minimum, plus 4 smaller pieces of similar veneer. Would make several beautiful nameboards! £120. | |
This website is updated as soon as I have new stock or sell an instrument. Go to next page:hiring-and-tuning.php